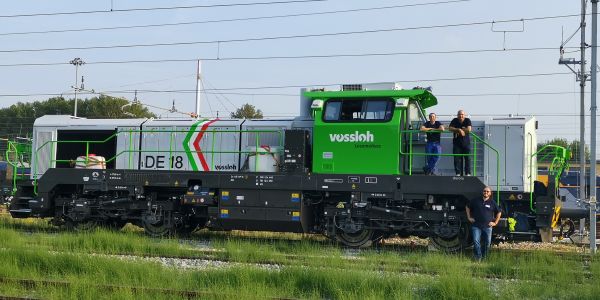 At San Donato, Bologna (Italy), there is the railway test circuit owned by Rete Ferroviaria Italiana (RFI). This is the first equipped laboratory in the field in the whole Europe: a state-of-the-art technological pole unique of its kind, a real opportunity for the execution of tests in Italy.
The circuit is dedicated to the fine-tuning, development tests and certification of rolling stock; it also provides services on the market that allow applicants to develop and test new infrastructure systems/components in order to improve their performance, reliability and maintainability; moreover, it also allows you to perform 24h test runs.
A unique feature is the equipment with the Italian National Signalling (SCMT and SSC) which allows the execution of almost all the dynamic signalling tests for all the vehicles with maximum speed up to 120 km/h (74.6 mph).
Italcertifer operates continuously in the execution of tests on the circuit in synergy with RFI providing an integrated service for:
Tests on the Signaling System;
Electromagnetic Compatibility tests according to EN505592 and EN50121-3-1;
Noise tests according to TSI Noise;
Performance tests on traction systems of rolling stock;
Tuning on harmonic currents according to the FS mask;
Performance and tuning tests on braking systems;
Pantograph-catenary interaction tests
Integration testing of new components installed on board existing rolling stock;
Integration test between on-board and track-side systems (eg HD ERTMS);
Tests and measures in general aimed at the certification of new railway rolling stock according to European and national standards;
Test runs aimed at the development of new railway rolling stock.
Furthermore, the circuit has:

tracks for carrying out static tests and parking of rolling stock
a support system for equipping with measurement systems and for the maintenance of the rolling stock under test.
Test Circuit Technical Features

3 kV DC power supply;
Maximum speed 120 km/h (74.6 mph);
Equipment present: UNI 60 high speed lines and RFI 260 sleepers;
Electrified contact line with traditional 3kV direct current system and overall cross section of the catenary made with the three types currently used on the RFI network (540 sqmm, 440 sqmm and 320 sqmm);
Signaling system consisting of 4 block sections, each 1350m extension with BACC with more than 4 codes and trivialized three-aspect signaling;
Signaling system managed by the ACC system configured through an internalisation process;
Overlapping spacing systems to implement the main spacing for free / busy functions;
Protection systems: SCMT, SSC and ERTMS, for greater safety of train running during functional tests and/or technical/functional integration.
[https://www.rfi.it/it/innovazione-e-ricerca/ambienti-di-test-e-sperimentazione/circuito-san-donato.html]