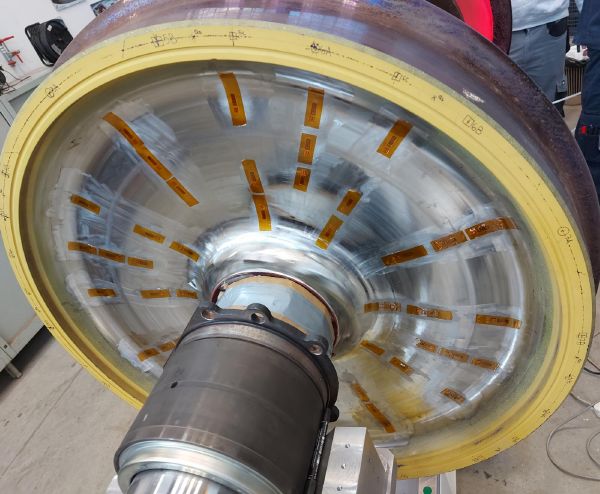 Italcertifer Laboratories assemble railway wheelsets for the measurement of wheel-rail contact forces for the purposes of vehicle certification in accordance with EN 14363 and UIC518 Standards, for investigative tests or for diagnostic purposes relating to both vehicles and infrastructure.
Wheelset assembling allows the contact forces to be accurately determined in real time by measuring strains with strain gauges; these are suitably arranged on the wheels or on the axle in such a way as to distinguish the various force components exchanged between wheel and rail (vertical, longitudinal and axial).
The optimization of the arrangement is carried out thanks to the know-how deriving from years of applications, with the aid of both numerical and experimental techniques, studied from time to time to adapt to any type of wheelset (different types of wheel and axle, braking or traction wheelsets, etc.). The assembly can be performed both on standard wheels and on specially made wheels, with solutions that can also be adapted to long-term applications and to high-speed vehicles. The laboratory has previous experience up to 400 km/h (248.5 mph).
Italcertifer Laboratories have a test bench for the mechanical characterization and calibration of the assembled wheelsets. The bench may replicate the combinations of forces present during the operating conditions, guaranteeing the maximum accuracy of the measurements.
Wheelsets can also be assembled for the measurement of deformations or temperature: in this case the laboratory has experience in braking temperature measurements up to 360 km/h (223.7 mph).
Given the many years of experience in testing in the railway sector, in addition to assembly, Italcertifer Laboratories can also offer the services of data acquisition, analysis and interpretation.