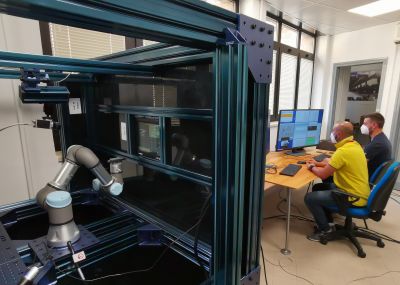 Italcertifer ERMTS Laboratory is equipped with a simulation technological environment, called "ITCF-EuroSV", intended to verify the correct implementation of the functions of the SSB ETCS defined in UNISIG Subset 026 through the execution of tests defined in UNISIG Subset 076 through the RTF called ITCF-EuroSV developed in accordance with UNISIG Subset 094.
"ITCF-EuroSV" implements a real-time architecture that can reproduce the stress conditions of the EVC indoors, respecting all the requirements imposed by the technical reference UNISIG Subset-094.
Italcertifer ERTMS Laboratory actively takes part to the verification activities of UNISIG Subset 076 tests through participation in the EUAR Working Groups and the aforementioned tests are currently accredited by the Italian accreditation body Accredia.
Furthermore, Italcertifer Laboratory is equipped with a technological environment capable of performing the tests reported in UNISIG Subset-085 and UNISIG Subset-036 for EuroBalise, BTM and LEU in all the operating conditions required by the European specification.
Italcertifer's equipment and automatic control systems may allow the execution of compliance tests of Telepowering/Uplink flows, as well as evaluating the characteristics of the interfaces used for the transmission of telegrams.
ITCF test environment continuously monitors interface "A" (Air gap, crucial for the operation of BTM and Aurobalise) and Interface "C" (the control interface of the LEU in comparison with EuroBalise).
The tests that allow verifications on these interfaces are dealing with the compliance analysis of the following fields:
the tele-powering magnetic radiation field in the main lobe region, and in the side lobe region;
Uplink's magnetic radiation field in the main lobe region, and in the side lobe region;
the electrical characteristics of the Eurobalise Up-link signal;
the control interface of the balise for the switched buoys;
the up-link data signal on the "C1" interface;
the signal on the "C6" interface;
the return loss at the exit of the LEU for both interfaces "C1" and "C6";
functional and safety properties following simulations of telegram transfer from "C1" to Eurobalise and to BTM and on-board subsystem;
the "Blocking signal" on the "C4" interface (where applicable);
the I/O characteristics of Eurobalise;
the Eurobalise impedance with respect to the Tele-powering source;
the data transfer delay on interfaces "C1" and "A1" for switched Balises;
the behavior of the Up-link signal at start-up;
cross-talk immunity with nearby cables;
compliance with EMC requirements.