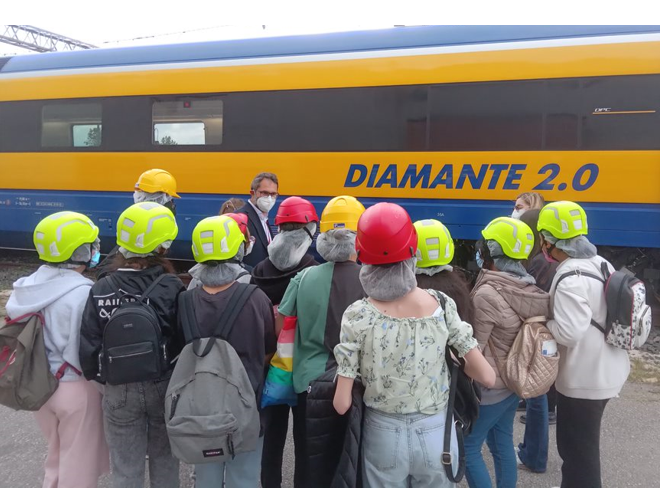 After two years of isolation due to the pandemic, school trips finally start again.
Young students from the Istituto Comprensivo Beato Angelico Middle School in Florence had the opportunity to visit the imposing Osmannoro plant in Florence which houses the most important Test Center in Italy on railway vehicles and where the Laboratories of RFI and Italcertifer provide testing and measurement services in the iron-fieldtramway.
For this occasion, RFI and Italcertifer welcomed two classes of the Florentine middle school in the headquarters of the plants in Florence presenting them the train "Diamond 2.0", the latest arrival in the family of diagnostic trains, witness of the "Italian Excellence" at Expo Dubai 2020 in the United Arab Emirates.
The school groups and the teaching staff were able to see and hear about the strategy of the Test Center of Florence Osmannoro Laboratory, where the instrumentation of wheelsets of Diamante 2.0 were equipped by Italcertifer. They were also able to see firsthand the complexity and state-of-the-art technology needed to implement predictive maintenance systems for the railway infrastructure.
In addition to being equipped with numerous measuring systems, the Diamante 2.0 diagnostic vehicle, affectionately nicknamed as the "Doctor of the Tracks", has equipped the instrumentation of wheelsets for the measurement of the interaction forces wheel-rail developed and manufactured by Italcertifer.
An all-encompassing experience in terms of railway safety training, state-of-the-art diagnostics and useful to show the results and developments of an ever-growing industry. An opportunity also to allow the potential technicians of tomorrow to begin to build the basis for a possible future choice of studies in the field of STEM (Science, Technology, Engineering, Mathematics).
Florence, 9th May 2022